Why Are We Just Now Caring About Antisemitism? Asked Me, A Jewish Girl
The recent Kanye situation has been noticed by many, but other acts of antisemitism have not.
Warning: this article contains language that may be triggering. Discretion is advised.
On Tuesday, October 25th of 2022, Adidas dropped its partnership with Kanye West. This partnership was going on for nearly a decade. However, Kanye's recent antisemitic statements made Adidas cut the contract. Adidas states that they "do not tolerate antisemitism or any form of hate speech" in a company statement. Kanye received extreme backlash on social media for his statements. But it seems like people, in general, have not been condemning antisemitism until now.
Kanye had made antisemitic remarks on Twitter and in interviews, including a tweet, saying he would go "death con 3" on Jewish people.  Shortly after, a white supremacist group draped a banner over a Los Angeles highway, reading "Kanye was right about the Jews."
However, this case is appearing to have more and more people speaking out against it. Maybe this is because this time it is a famous person getting "canceled." But antisemitism has been rampant across the United States in the past years, especially due to the Israel/Palestine conflict. Some people are blaming Jewish people, including non-Israelis, for the attacks on Palestinians.
In May 2021, three people heckled Orthodox Jews outside of a synagogue in New York, yelling "Free Palestine — kill all the Jews," and were also suspected of assaulting two Jewish teenagers on the same day. The incident occurred in Borough Park, New York, which has a large Jewish population.
There is also hate speech being spread around through the use of flyers: antisemitic flyers were distributed around Beverly Hills recently. The flyers blamed Jewish people for current issues. One of the flyers states how "Every single aspect of gun control is Jewish." Beverly Hills' mayor, Lil Bosse (who is also the daughter of Holocaust survivors) was quick to respond to the incident.
She tweeted: "ENOUGH HATE meant 2 silence us. I will speak LOUDER #Antisemitism."
It is also the four-year anniversary of the synagogue shooting in Pennsylvania, which was one of the deadliest attacks on Jewish people in history. Eleven were killed and six were injured on Shabbat morning on October 27, 2018, when a gunman fired shots inside the place of worship. United States President Joe Biden has released a statement that honors those who died, as well as pledging to tackle gun violence in America.
Why is it just now people are holding others accountable for antisemitism? If you see something, speak up. Hold others and yourself accountable. Unlearn biases and help others unlearn theirs too. Being antisemitic in support of Palestine is antisemitism, not activism. (Keep in mind not all Jewish people are Israeli). If more people stood up to antisemitism before the Kanye incident, there would not be a rise in antisemitic attacks across the world today.
Leave a Comment
Your donation will support the student journalists of Romeoville High School. Your contribution will allow us to purchase equipment and cover our annual website hosting costs.
About the Contributor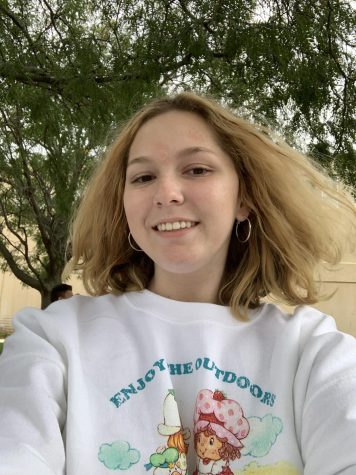 Emi Kirman, Activities Editor/Writer
Hello! My name is Emi Kirman (they/she) and I am the activities editor for the newspaper. I love writing about fashion, clubs/activities, and opinions....