Be Grateful, the World Sucks
The world sucks, we know. Friends disappoint and don't always live up to the promises they make. The people you look up to may not be there the moment you need them most. Every problem you see or hear has no emotional impact because it is so common now.
With all the negativity in the world, it can be hard to avoid it. But there are things we can do to combat that stress.  Instead, focus on what you have in your life right now that you are proud of, big and small. Think about what brings peace to your mind right before you lie down for bed. List the things that you can't imagine not being in your life. What is it that you are grateful for?
I'm grateful for…
All my friends. xoxo😘- Angela Castellanos (12)
My friends 🙂 – Jasmine Orozco (11)
My amazing parents who do everything for me- Eden Eyassu (9)
All my great teachers- John Mola (12)
My niece and my ability to love her no matter what- Rin Fleming (11)
All of the opportunities that I have been given- Adam Skibinski (9)
My dog because she always cheers me up- Juliana Anderson (11)
All my friends and family, along with the support and opportunities they have given me- Ariana Mustafa (12)
The support I get from my friends at school. They keep me positive during stressful times <3 – Andy Cardenas (11)
Something else that helps overcome negative emotions is reassurance. There's comfort in knowing that others understand and care about how you feel. There are many ways to show reassurance, one way is giving advice. Hearing these can help make us feel less alone. We feel seen, heard, and know that others are there at our side. Sometimes the advice might not feel applicable to us at that moment, but we'll appreciate being shared it sometime down the line. What advice would you share with someone today?
What is something we can all use right now?
We need to understand it's okay to not slay every day- Michele Lessaris (12)
It's important to put your health first. Have time to make sure you're okay 🙂 – Lilyanna Matrypula (12)
It's okay to say NO! Don't feel pressured into anything you're not comfortable with! – Brooke Miller (12)
Just be kind to each other- Lillian Knauer (11)
I think that the world could use a good autumn walk. Just to go out and look at the leaves and nature- Tally Feltham (10)
People need to be more calm and respectful- Devonte Cunningham (12)
Something the world could use right now is love- Nathan Marquez (9)
Finally, don't wait to share your appreciation with those that matter. This includes your family, friends, teachers, bus driver, and even the receptionist at Starbucks. Let them know how important they are in your life. Time is only so long. Say it now instead of wishing you did it later down the line.
Leave a Comment
Your donation will support the student journalists of Romeoville High School. Your contribution will allow us to purchase equipment and cover our annual website hosting costs.
About the Contributor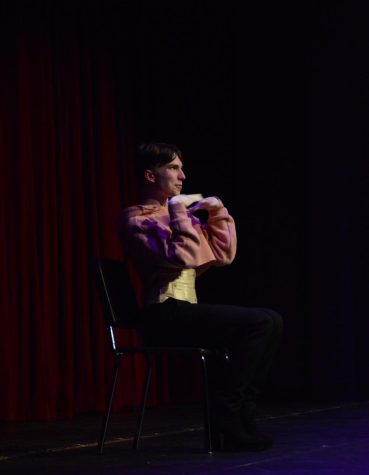 Michael Kowalkowski, Writer
Hey, I'm Michael and I love to create and entertain. I've had my fair share of just about everything and only plan to grow from there. I adore putting...