If You've Watched This Show, Read This Book
1:Emily in Paris read Paris is Always a Good Idea by Jenn McLinlay
The first one is Emily in Paris and Paris is Always a Good Idea. After landing her dream job in Paris, Emily Cooper embraces her adventurous new life while juggling work, friends and romance. She later has to decide what she wants in life. With Paris is always a good idea a thirty-year-old women retraces her gap year through Ireland, France, and Italy to find love—and herself. This book is fairly recent, it was released in 2020.
2:Never Have I Ever read Counting Down with You by Tashie Bhuiyan
Never Have I Ever is a series focusing on the life of an Indian-American teen who seeks popularity at her high school. A reserved Bangladeshi teenager has 28 days to make the biggest decision of her life after agreeing to fake date her school's resident bad boy. Karina Ahmed has a plan. Keep her head down, get through high school without a fuss, and follow her parents' rules—even if it means sacrificing her dreams. When her parents go abroad to Bangladesh for four weeks, Karina expects some peace and quiet. Instead, one simple lie unravels everything.
3:Breaking Bad read Where All the Light Tends to Go by David Joy 
Both of these revolve around the Meth business. In Breaking Bad a  high school chemistry teacher dying of cancer teams with a former student to secure his family's future by manufacturing and selling crystal meth. And in the book Jacob McNeely struggles to decide on whether to continue helping his father and his meth business or leave town and build a new life with the girl he loves.
4:The Society read The Lord of the Flies by William Golding
The Society in my opinion is an underrated but a really good show. It actually got canceled back in 2019 when it came out which is very sad. The society starts when a group of teenagers must learn to run their own community after the rest of the population of their town ends up disappearing. In The Lord of the Flies a group of young boys find themselves alone on a deserted island trying to survive without any control or adults present.
5:Outer Banks read We were Liars by E. Lockhart 
Outer banks follows the story of a group of friends from The Outer Banks of North Carolina "Paradise on Earth" who are trying to find a lost treasure linked to the disappearance of a family member. The book follows a shocking and twisted tale about the seemingly perfect Sinclair family who hides their secrets, lies, and flaws behind their tall and handsome builds. Outer banks and We were Liars both include that Ocean, water, summer vibe.
6:Gilmore Girls read Welcome to the Neighborhood by Lisa Roe
In Gilmore Girls there is that dynamic between a mother and her teenage daughter and their relationship. In Welcome to the Neighborhood it is a story about a single mother and a daughter who try and find their way in a suburb of New Jersey. When single mom Ginny remarries and moves with her quirky daughter from Queens to a leafy, beautiful suburb in New Jersey, she has no idea what she's getting into. Though she's never been impressed by material things, she is thrilled that getting a second chance at love comes with the added bonus of finally giving eleven-year-old Harri everything she never could before.
7:American Horror Story read The Haunting of Hill House by Shirley Jackson 
The Haunting of Hill House already has a show adaptation but it also connects with American Horror story. AHS has fictional haunted locations; the living and the dead that interact with them. Each season has its own self-contained storyline and characters. In the haunting of hill house it revolves around 4 main characters. Montague hopes to find scientific evidence of the existence of the supernatural. He rents Hill House for a summer and invites as his guests several people whom he has chosen because of their experiences with paranormal events.
8:Orange is the New Black read Cherry by Nico Walker
The show takes place inside a women's prison, the whole show revolves around Piper Chapman who has a history with a drug dealer and it causes her to be sentenced to 15 months in prison. This also has a book previous to the show being created. A book that is like Orange is the New Black is Cherry by Nico Walker. Cherry is an autobiographical novel that Walker wrote while in jail. It's a piece about addiction, PTSD, and a desperation for purpose. The book actually ended up being a movie starring Tom Holland.
9:Stranger Things read My Best Friend's Exorcism by Grady Hendrix
Stranger Things is about a young boy who vanishes in a small town, his mother, friends and police must confront terrifying supernatural forces in order to get him back. The year is 1988. High school sophomores Abby and Gretchen have been best friends since fourth grade. But after an evening of skinny-dipping goes disastrously wrong. Bizarre incidents keep happening whenever she's nearby. Abby's investigation leads her to some startling discoveries—and by the time their story reaches its terrifying conclusion, the fate of Abby and Gretchen will be determined by a single question: Is their friendship powerful enough to beat the devil?. In both of these there is a mix of drama and supernatural elements followed by horror.
10:Schitt's Creek read It Happened One Summer by Tessa Bailey 
Like Schitt's Creek in It Happened One Summer there is that dynamic of rich people moving somewhere smaller. The story starts when a Hollywood "It girl" is being cut off from her wealthy family and sent to a small Pacific Northwest beach town where she butts heads with a surly local who thinks she doesn't belong. Piper Bellinger is fashionable, influential, and her reputation as a wild child means the paparazzi are constantly on her heels. When too much champagne and an out-of-control rooftop party lands Piper in the slammer, her stepfather decides enough is enough. So he cuts her off, and sends Piper and her sister to learn some responsibility running their late father's dive bar… in Washington. If you like Schitts's creek definitely read this book!!
11:One of Us is Lying read Live Your Best Life by Jessie Weaver
And finally the last show/book is One of us is Lying, it was originally a novel trilogy and was then made into a show. It has 2 seasons and the 3rd one has been cancelled. The show follows five high school students who enter detention, where one of them dies under suspicious circumstances and an investigation ensues making their lives change. The book is about a social media influencer named Summer Cartwright who has a very good life; millions of followers, the hottest designer and vintage clothes at her fingertips, a newly minted book deal, the coolest friends, and, until recently, the hottest boyfriend at her über-elite prep school. Every moment of her life has been carefully planned and cultivated to complement her "imperfectly perfect" social media persona. But when Summer goes missing during her annual Halloween party and then an unscheduled post appears on her feed stating that she'll be dead within the next five minutes everything changes. The book was released this year and is doing well. There are also a lot of shows and books that revolve around the same thing as One of Us Is Lying and Live Your Best Life.
Leave a Comment
Your donation will support the student journalists of Romeoville High School. Your contribution will allow us to purchase equipment and cover our annual website hosting costs.
About the Contributor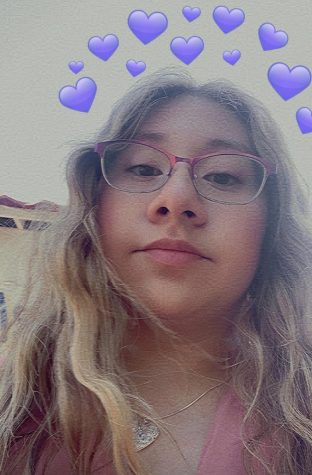 Yaritza Hernandez
My name is Yari I'm a freshman and I love to read, watch tv and play/walk my dogs. My favorite show is The Vampire Diaries, my favorite book is It Ends...